By far the most famous French porcelain, is the porcelain that comes from Gien. Gien is a city in the Loiret region of France. Almost 200 years ago Thomas Edme Hulm, an English industrial, decided to start a faience factory.
The 'faiencerie' got to be very well known for their copy work. They excelled in copying historical pieces that were very affordable.
Of course they made original pieces too. Either inspired by 17th and 18th century faience, the orient or talented painters.
Today, there are 227 employees in the Gien business and their tableware faience is mostly to be found in the upscale specialty shops. I particularly like their 'contemporain' Paris tableware:
They not only make the most beautiful tableware, but they make lamps, vases and other collectors items as well.
I stumbled upon Grand Marnier publicitary plates a couple of years ago. These little plates were mostly used in the bistro's to put peanuts on or to present the bill. They are very pretty and have a very romantic look, with a lovely couple and the red color. It's the kind of image that is to be found on Toile de Jouy.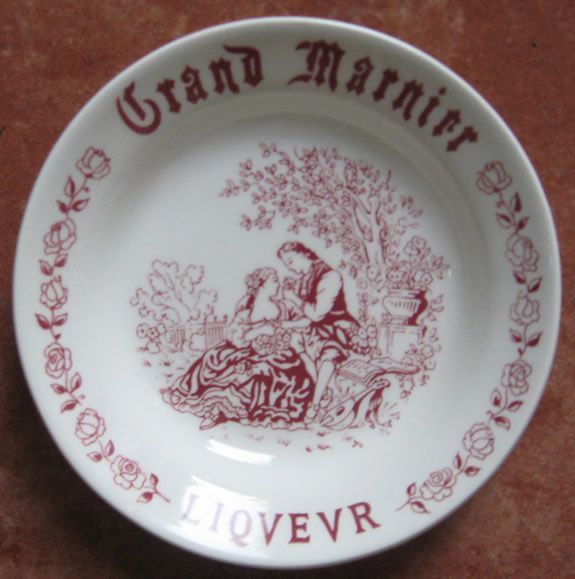 When I picked up a plate, I was stunned to see that these were Gien plates. I mostly recognize the Gien work, for it's usually quite distinct.
Of course I had to buy them. I couldn't resist. And now that I'm seriously dehoarding, I've decided to put them all (but one:)) for sale in the
Boudoir de Paris eBay
store. They ostly sell for about EUR 12,= (approx. USD 15,=) a piece here in France, I've just listed one to bid on with a starting price of USD 3,99. A great chance to become the owner of an very Paris Chic original Gien piece!
Sacha.