Due to 'administrative reasons' (eBay only gave us 50 listings per month on our new account) we were forced to move to Brenda's 'old' account 'Boudoir of Paris'. Of course we got to think why on earth we didn't start using that in the first place...
So Brenda has done an incredible and major job on migrating all our accounts from 'Boudoir DE Paris' to 'Boudoir OF Paris'.
And now we're going back and forth from one eBay shop that still has biddings going on, to listing on the new eBay shop. So kind of chaotic. But only for a week and then things are back to normal again.
Of course there's still the logo issue. But that's mostly me being slackerish. Brenda is the active one of our joint venture...

I've done my best to get some nice, lovely and romantic French items listed, though!
There's this cute little sewing kit:
A nice 'GM' monogram on a 'Fil de Lin' (the finer linen) panel, perfect for a crafting project: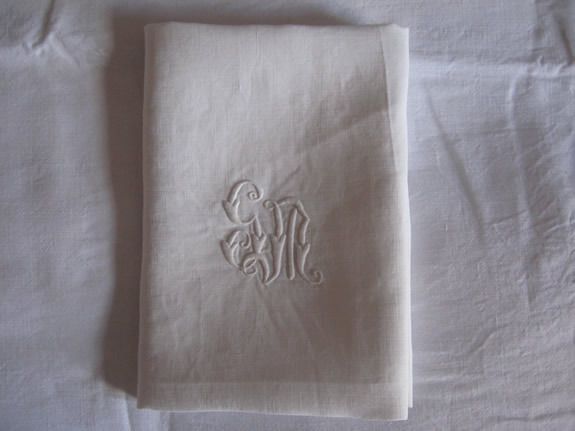 A lovely romantic linen nightgown that would make a perfect layer in a bohemian or Magnolia Pearly style clothing:
And a fantastic linen 'MT' monogramed sheet, that a Shabby Paris Apartment Style bedroom or Chateau Chic Boudoir cannot do without:
So far the listings from my side of the big pond (France). For the American listings... Brenda has been busy listing all sorts of lovely antique sewing patterns that you just have to go and see!!!
I wish you all a lovely and great weekend. I'm off for my 'apéritive' (read: Rosé Wine with snacks) and my lavender harvesting with husband.
À plus mes Amies!
Sacha.
shabby chic, paris, france, french, linen, antique, sewing patterns, nightgown, magnolia pearl, bohemian, romantic, white, sewing kit, monogram, monograms, boudoir, chateau